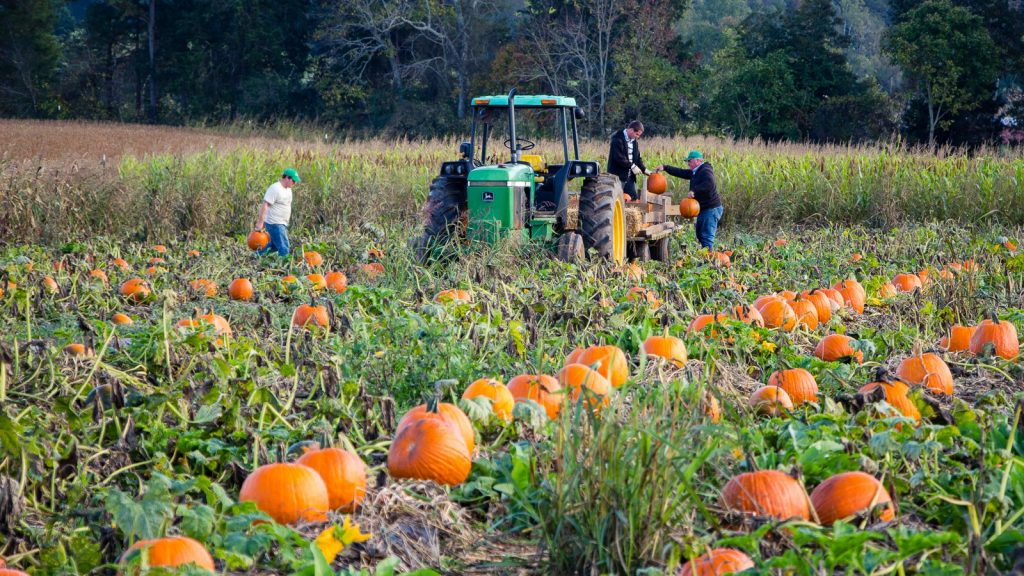 ::Our 2023 Fall Season is over… for ongoing updates check the home page or follow us on Facebook or Instagram. For seasonal updates you can subscribe to our email newsletter!::
Throughout our Corn Maze season, we will have several different sizes of gourds from $1 and up
Regular pumpkins are $7 each or 5 for $30
Specialty/Edible pumpkins prices vary
---
Nothing says fall quite like a pumpkin!
A few years ago, after a couple of small-scale pumpkin patches, we decided to introduce pumpkins as a new crop here at the farm.
The great thing about the way we have decided to grow our pumpkins is that it complements our strawberry crop really well. Once the strawberry season is finished, in June, we plant pumpkins directly back into the plastic-covered strawberry hills. This allows us to drip irrigate the pumpkins throughout the long, hot, dry summer – maximizing fruit quality and shape. It also means we can feed fertilizer throughout the summer to enhance color and growth.
We have a number of varieties of pumpkins, orange ones, white ones, smooth ones, warty ones, and decorative ones.
Whether you want to pick your own pumpkins or select from ones we've already picked, we're sure you'll enjoy choosing your pumpkins here at the farm…
Here is a video about pumpkins from a few years ago…
Here are a few videos we recorded a number of years ago about the pumpkins.
…and here are a few out takes from the recording of the above video…